Taking a selection of elderly people with a range of challenging behaviour we introduced the coloured crockery range. The outcome was a definite success and details of our trial can be found below.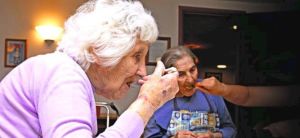 Trail Information
Patient 1 - has always managed well.
Patient 2 - has always managed well with food but there is a definite improvement with cups as there is much less spillage.
Patient 3 - very limited sight. Able to pick the cup a lot easier, whether this is because of handle or colour, we don't know. Food recognition on plate is better because of contrasting colour. Less mess left on table where the client in the past has pushed food off plate as wasn't able to see it.
Patient 4 - always managed.
Patient 5 - cup is definitely a success. No spillage and fluid intake a lot better.
Patient 6 - cup managed better less spillage better fluid intake. No difference with plate or bowl.
Patient 7 - eyesight limited. Managed better with plate. Food intake increased at mealtimes 30 percent probably because of colour contrast.
Patient 8 - limited vision. Cup great; hold it a lot better and less spillage.
Patient 9 - very independent, so trial was not applicable.
Patient 10 - limited eyesight. Manages the cup well, contrasting colour of the plate works well. Less food left on plate.
Patient 11 - tunnel vision. Bowls and cups definite improvement seen, as the contrasting colour helps focus eyes.
Conclusion
The cups have been a definite success because clients find them easier to hold and colour defines the cup shape for them helping them to realise what it is. Plates have been useful with some clients mainly because of colour contrast although the wide rims on dessert bowls have prevented a lot of spillage therefore leaving more on plate for clients to eat. The cases where the plates have worked the difference has been significant. Although measurement can only be on a visual basis as it is at busy mealtimes we estimate that food intake on clients that have success with the plates and dishes is at least 20 to 30 percent more.
- Belinda Dunn | Sonia Mullaney | St George's Park Hospital
To find out more about our find dinning range click here