About Find – the first (incredible) decade!
Our growing team at Find are led by Peter Rose and Anthony Cockcroft and represented throughout the UK by Karen, Rob and Edward with Ruth, Karen, and Ant in the sales office and all backed up by our production team.
As our product designs and strategies have been widely adopted within the care sector, we have built close relationships with our clients and benefit from their expertise and insight which helps us identify issues we can address
We're constantly working on ways to help people maintain their everyday lives at home, in care homes and within their community.
Find was conceived by accident in early 2007 when Bupa highlighted the need for Dementia-specific sign designs. With a background in engineering and design it inspired me that we could do something of benefit to an enormous number of people if we could come up with designs that really worked.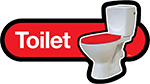 By November 2007 we had a unique sign design ready for launching to the Dementia care community yet we had no idea of how it would be received! We needn't have worried though, the response was universally positive and Find was up and running.
The volume of feedback we receive from academics, professionals, care givers, trainers and people with Dementia themselves, fuels Find's on going commitment to creating more solutions and improving the existing ones.
Today we continue leading the way in developing simple, effective solutions that help people living with dementia manage their daily lives with less stress and more pleasure
10 years ago it began with a simple question - "Do you think you can design signage for our residents with dementia?"
10 years later we own a raft of original designs and innovative products (most of which we also manufacture) that help many thousands of people cope with the disruption to a comfortable life that dementia creates.
10 years from now Find will be working even harder with a creativity, commitment and innovation (others can only follow) to help people with dementia and other cognitive disabilities.
---
Find Signage Ltd is committed to ensuring that your privacy is protected. Should we ask you to provide certain information by which you can be identified when using this website, then you can be assured that it will only be used in accordance with this privacy statement.

Find Signage Ltd may change this policy from time to time by updating this page. You should check this page from time to time to ensure that you are happy with any changes. This policy is effective from October 1, 2014.
© Copyright FindSignage LTD 2015. All Rights Reserved.